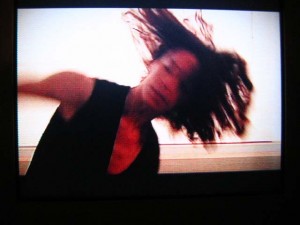 Herman Martin used to be in an outfit called "Bonk" (see here) and when Claire O'Neil heard a demo of it, she got in touch with. Since Bonk has worked on several projects together. "Before then, I had never had anything to do with contemporary dance," says Martin. "Claire introduced me to a completely new world which I took to immediately. This sort of medium is in fact one of the most interesting yet demanding areas to work in. The great thing about it creatively, is that anything that you can think of that is 'sound' can and will be used!"
This makes the colours and palettes completely open. Bonk used anything from the sound of draymen delivering beer barrels to complete songs…. "Working with Claire is also really great because she not only likes to sing, and of course dance, but is very into the interactive side of it all," he continues. "For example, on some pieces, I've had to take cues straight from her every movement, that's good fun but you've got to concentrate! Having to watch a dancer's body intensely was a new experience for me which also helped to become a real part of the performance."

Notes From Claire O'Neil on Lost Property (2003)

(Sound design and performances, Herman Martin/Samuel Gyselbrecht)
1) (…)You give a certain importance to music composition / sounds as an inspiration, as an input for your dance. Could you please tell us how you've worked with Herman?
"When working on movement and sound ideas with Herman Martin, we acknowledge that the soundscape of the body and voice is already a rich presence and a natural base for the rhythm, texture and intent of the work.
Most of the sounds in the pre-recorded soundscape for Lost Property have been drawn from sampling live rehearsal scenes, video excerpts or text that are produced during the creation process. Once all samples are gathered then the process begins to construct itself as the compositional soundscapes find a relationship to the choreographic and theatrical scenes. Within the composed structure, the aim is to maintain an improvisational state in the performance where the composed physical coordinates meet and react with the live soundscape."
.
Loaded (2007) is a 35 min piece that studies: Weight of the body, mind, sound and objects, the Gravity in/of a situation, the Motivation behind the Movement, the idea of Full and Empty, the muscular sympathy when watching Weight in Motion, the arousal towards feeling a certain emotion about a particular object or situation, the Speeds of the body, the heart and mind with a Desire, the Maleness in the female, the Femaleness in the female, the Honesty in Gesture, success, Failure and Consequences.
Its Loaded, and looking for space and time to further research, develop and represent.
(Sound design and performances, Herman Martin/Samuel Gyselbrecht)
Mtyland (2008)
'If you had an empty space….what would you do with it?' A new work from Claire O'Neil/Fidget Co.
Sound Design by Herman Martin. 40mins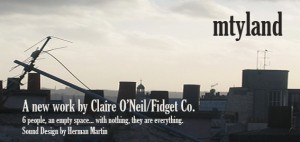 How do we manage ourselves in a moment. With somebody as a witness to pull you outside yourself and away from the personal solo. A solo that continually is developing and adjusting its point of view.These views that are influenced, of course… persuaded, maybe… manipulated, we hope not…. How does our private universe relate and oscillate in the communal space. How can we remove as much 'noise' from our environment to find a more pure sense of opinion, belief and attitude. What is hidden and revealed in the communal gathering. Our personal censorship system. Are we comfortable with not much…do we need 'noise' and business to feel functional, a part of a bigger picture….. Hermit verses socialite. 
I recently came across this video on Youtube. I worked with dancer Claire O'Neil on a dance project called Mtyland (pronounced "emptyland", by the way) for New Zealand's Footnote Dance Company. It picked up great reviews at the time. I didn't realise that it was online. But I came across these extracts. You'll find some of my sound design and music on parts 3 and 4.